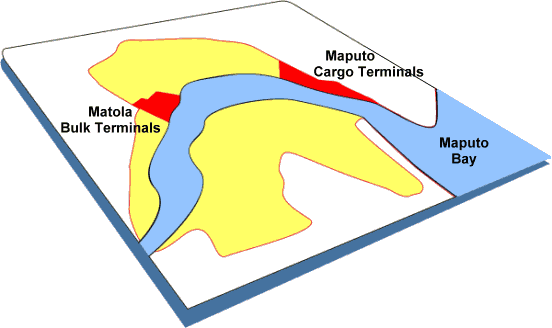 The Port of Maputo contains two main port areas.
There is one access channel from the open sea leading into Maputo Bay, the North Channel with a maximum depth of 14.4m (Canal do Norte). The channel passes to the North of Portuguese Island (Ilha dos Portugueses) and is well marked by light buoys.
The distance from the North Channel entrance at Buoy 1N to the Pilot Station at Buoy 12P is 25 miles. From the Pilot Station at Buoy 12P the Xefina, Polana and Matola Channels lead into the wharves and terminals.
Depths
| Location | Depth limits * |
| --- | --- |
| North Channel | 14.4m |
| Xefina and Polana Channels | 13.7m |
| Matola Channel | 13.2m |
* All depths are below chart datum and the actual tide is to be added (please consult tide table of the day). The tide table is published by INAHINA (Instituto Nacional de Hidrografia e Navegação). All navigational aids are provided and maintained by INAHINA.
AIR DRAFT
Air Draft of 62 meters ONLY for vessels crossing under the Katembe Bridge.
Air Draft alongside berth 5: 61.5 meter.
Title
Quays Design Depths – April 2023


1

193 downloads

Download
Conditions of Entry


1

407 downloads

Download
Matola Chart – new edition 646 UKHO


1

340 downloads

Download
Maputo Chart – new edition 644 UKHO


1

406 downloads

Download
Emergency Contacts


1

154 downloads

Download
Nova balizagem Maio 2019


1

191 downloads

Download
Maputo Port Approach Passage Plan


1

340 downloads

Download
vIRTUAL bUOYS centreline


1

218 downloads

Download
* For navigational purposes, please use UKHO Chart last edition (+ updates)